Massages
Through kneading and gradual pressures, the massage helps to loosen up muscular tensions, alleviate pains and drain fluids. In addition to the more traditional techniques aimed at rehabilitating particular body parts, at Terme di Pejo you can experience treatments coming from the eastern culture for a general relaxation and an energetic re-balance.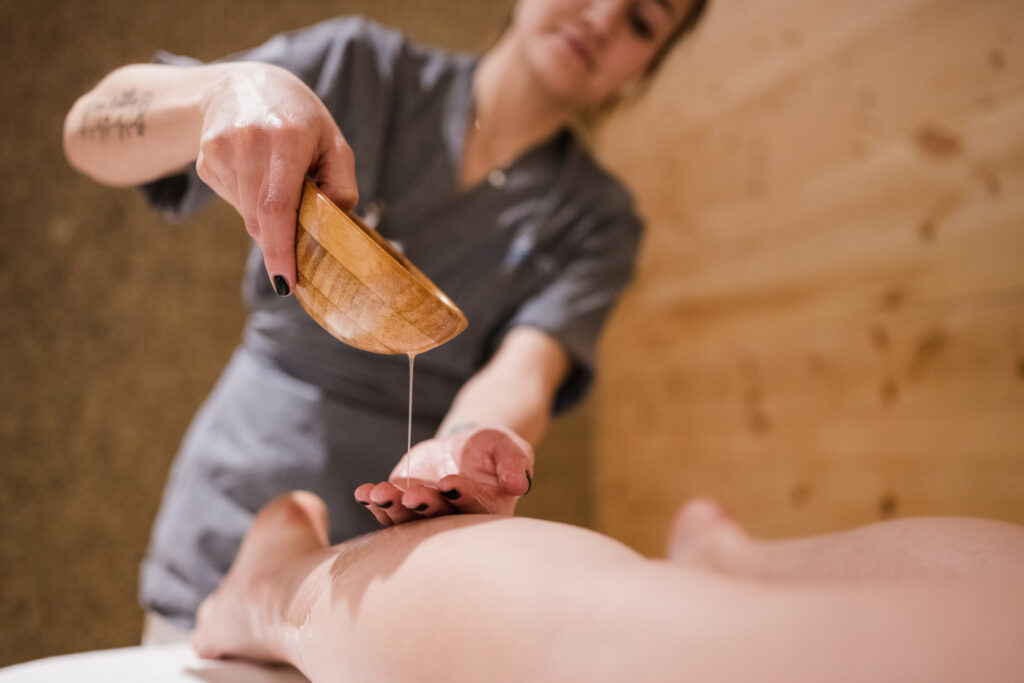 Choose your favorite technique!
PARTIAL MASSAGGE (25 min)
It loosens muscular tensions of particular body parts.
GENERAL MASSAGE (50 min)
It reduces muscular contractions, contrasts pain and helps to recover joint functionality.
ANTI-STRESS MASSAGE (40 min)
Gentle kneading spread throughout the body allows to fight tiredness and recover vital energy.
SPORTS MASSAGE (40 min)
An energetic technique to get the muscles ready for stress or recover after physical fatigue.
HEAVEN AND EARTH MASSAGE (40 min)
Relaxing treatment focused on shoulders, neck, head, face and feet. Heaven (Head) and Earth (Feet) must be in harmony to feel good. Restore balance by relieving muscle tension and mental stress.
INVIGORATING MASSAGE WITH MYRTILLIN (50 min)
It has an intense revitalizing action on muscle tone. Ideal for reactive, fragile and sensitive skin. Blueberry carries out a soothing action on delicate skin prone to redness, protecting its balance, strengthening its natural defenses and improving its appearance.
AYURVEDIC MASSAGE (50 min)
An ancient technique of Indian origin that helps to reactivate the balance of the three Doshas (Vata, Pitta and Kapha) using precious oils. It reinstates the psycho-physical harmony and restores energy and vitality.
HOT STONE MASSAGE (50 min)
It uses heated rocks of lavic origin that are directly placed on the energetic points and used to massage the body.
LOMILOMI MASSAGE (50 min)
A technique of Hawaiian origin based on rhythmic and harmonious movements of hands and forearms, which transmit to the body a feeling of light waves in constant movement.
CANDLE MASSAGE (50 min)
A gentle kneading and the application of vegetable butter, slowly warmed up on a flame and spread on the skin, loosen the muscle tension and restore tone and strength to the body.
HEART AND MIND ALPINE MASSAGE WITH PINE TREE ESSENTIAL OIL (50 min)
Pine tree essential oil has always been used to provide well-being and serenity against the stress of daily life. It has an aromatic scent with a relaxing effect on the respiratory tract. The pleasant sensation of well-being that this massage provides has an antibacterial and purifying action, causing an immediate relaxing effect for body, mind and spirit.
REGENERATING MASSAGE WITH HOT ARGAN OIL (50 min)
Argan oil, which is rich in linoleic acid, vitamin A and E, has cicatrizing and protective properties. The massage relaxes and, in parallel, the oil gives luminosity and nourishment to the skin.
PLANTAR REFLEXOLOGY (50 min)
An ancient oriental discipline according to which the foot sole is a representation of the organs and the various body parts. For this reason the stimulation of the nerve endings located on the foot allows to revitalize and facilitate the self-healing processes.
PARTIAL LYMPH-DRAINAGE (25 min) – TOTAL BODY LYMPH-DRAINAGE (50 min)
The Vodder's technique applies gentle manual pressure on the connective tissue in order to push the liquids into the venous and lymphatic flow and reduce swelling and staunching.
FIRMING LOCALIZED MASSAGE (25 min)
Treatment focused on the areas of fat accumulation in order to reduce edemas and recover one's tonicity.
SEQUENTIAL PRESSOTHERAPY (25 min)
Through gradual pressures on the upper and lower limbs, the equipment facilitates the flow of body liquids, thus reactivating the venous and lymphatic flow.
SEQUENTIAL PRESSURE THERAPY WITH BANDAGE DRAINING AND FIRMING (40 min)
The action of sequential pressotherapy is enhanced thanks to the use of caffeine bandages to obtain the maximum result of lightness of the legs. Thanks to the specific bioactive contents, this treatment stimulates detoxification and shapes the lower limbs.
MASSAGES TIMETABLES

December 7th, 8th and 9th
December 12th and 14th
16.00-19.00
December 18th – 25th
15.00-19.00
December 26th – January 7th
daily 9.00-19.00
January 8th – April 1st
daily 15.00-19.00
RESERVATION IS ALWAYS REQUIRED in order to carry out a massage.
Contact us using the following contact details:
PHONE 0463 753226
E-MAIL

[email protected]