Beauty treatments
At Terme di Pejo, beauty treatments and cosmetics combine with the purifying action of the mineral waters, helping skin hydration and cellular renovation.
The beauty treatments for body and face use formulas composed of thermal waters, Fonte Alpina and Antica Fonte, and with products of the territory such as apple, blueberry, gentian, edelweiss  nd arnica.
These components help maintaining the skin flexibility and glow and have an anti-aging effect.
The products of the Fonte Alpina and Antica Fonte cosmetic line used during the beauty treatments and made of natural substances and thermal water, can also be purchased for everyday use and are recommended to continue the treatment.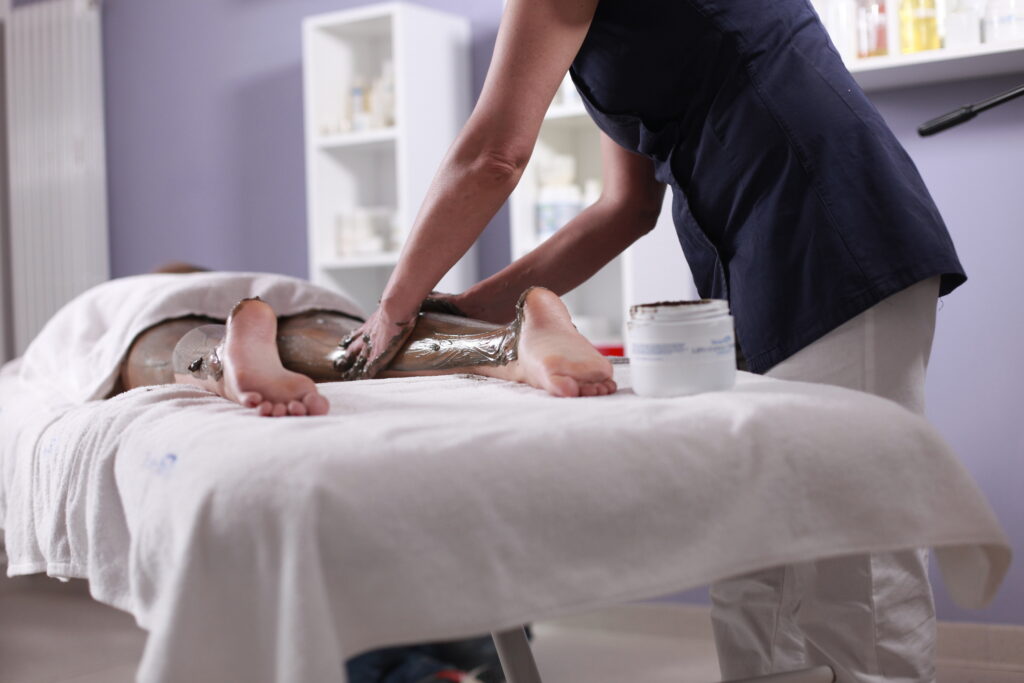 Find out our many beauty offers:
FACE TREATMENT
DEEP CLEANSING FACIAL WITH MASK (50 min)
This treatment gives a deep cleansing to the skin, preparing it to regenerate naturally. A facial includes: a cleansing, a facial scrub and the removal of impurities. It is then followed by a thermal mud mask and finally a skin moisturizer is applied using a specific cream depending on the type of skin.
HYDRO SENSITIVE TREATMENT WITH MYRTILLIN (50 min)
Effective in the treatment of dry and sensitive skin. Myrtillin extracts, vitamins, hyaluronic acid, and mineral water from the "Fonte Alpina" spring will restore the skin's natural glow and luminosity by deeply moisturizing it.
ANTI-AGING TREATMENT WITH PHYTOMELATONIN (50 min)
Rejuvenating anti-aging treatment with phytomelatonin extracted from alpine plants and active on vital cell cycles. By combing this oil with the mineral water, from the "Fonte Alpina" spring, it penetrates the skin deeply and stimulates protein mediators, which are able to activate the formation of fibres that add further support. This treatment is especially suited for ageing, tired skin to give it a smoother texture and to treat lines and wrinkles.
ALPINO LIFTING TREATMENT WITH SPECIFIC ACTIVES (50 min)
This is personalized treatment designed specifically for each type of skin. It's made with super functional pure actives for an immediate beauty effect.
IDROLIFT TREATMENT WITH EDELWEISSAND HYALURONIC ACID (50 min)
A high-performance treatment with a maximum concentration of edelweiss. The whole skin structure, epidermis, cellular matrix and fibroblasts, is globally activated to obtain maximum compactness and revitalization. Designed to define the whole face and redraw its contours.
ANTI-AGING REGENERATING AND ILLUMINATING FACIAL TREATMENT (50 min)
Repairing anti-aging treatment to reduce photo-aging and chrono-aging. Staminal Green and Q10 are good skin care products and they also restructure the skin. Skin will appear younger, facial profile, furrows and wrinkles will be much smoother.
TREATMENT FOR MEN USING GENTIAN (50 min)
This treatment will detoxify, invigorate and soothe male skin types. The products used are low in mineral content and contain gentian extracts.
PHYTOMELATONIN TREATMENT FOR SCALP AND HAIR (25 min)
This is specific for brittle and devitalized hair, it moisturizes, soothes and nourishes the scalp. Giving vigor and volume to the hair as well as benefits to the scalp.
BODY TREATMENTS
CELLULITE TREATMENT WITH BLUEBERRY (50 min)
Bioactive substances like myrtillin, bioflavonoids and vitamin C, stimulate microcirculation, the reabsorption of liquids and the removal of toxins in the body. The treatment, draining, antioxidant and slimming, helps to define the body silhouette, to restore tissue elasticity and to stimulate the metabolism for a sculpted body.
THERMAL HYDRO MUD TREATMENT FOR LEGS (50 min)
Innovative treatment to counteract cellulite blemishes. It facilitates the removal of excess liquids and improves tissue firmness.
Thanks to specific bioactive substances contained in the horse chestnut, this treatment reactivates microcirculation, eliminates toxins, shapes the body and reduces the unsightly «orange peel skin».
STAMINAL GREEN BODY TREATMENT (50 min)
Organic extracts made from grape stem cells contrast micro inflammation, stimulate cell metabolism and perform a restructuring action.
Total body treatment that shapes adiposities, tightens the whole body and restores skin vitality.
FIRMING TREATMENT WITH THERMAL LIPO MUD AND EDELWEISS (50 min)
This treatment is recommended for marked skins, it improves the firmness of the tissues and it restructures the dermis. Performed with thermal muds in vegetable oils, it is a purifying and toning treatment to firm the whole body.
The treatment is enriched with edelweiss to awaken cellular energy.
LOCALIZED FATIGUE TREATMENT FOR SPORTSPEOPLE (50 min)
An anti-stress treatment with de-contracting massage which consist in the application of alpine mud on the tense and painful areas of the body. The application of the thermal mud matured with the ancient Fonte mineral water has a relaxing action on the muscles. The treatment is designed only for specific parts of the body (i.e. back, shoulders and legs).
TREATMENT FOR NEW AND EXPECTANT MOTHERS (50 min)
A thermal treatment just for new or expectant mothers: it will moisturize, add elasticity and detoxify the skin. The delicate characteristics of the mineral water from the "Fonte Alpina" spring and natural olive and apple extracts are a guarantee that this treatment is safe for both mother and baby.
DOUBLE BODY PEELING TREATMENT WITH GRAPES AND PINE WOOD (50 min)
Two exfoliating and detoxifying massages one another the other to deeply eliminate impurities. The enzymatic peeling reactivates microcirculation with alpha-hydroxy acids extracted from apples and lemons, while the aromatic grape scrub re-oxygenates the skin.
MASSAGE TREATMENT WITH XIMENYNIC ACID (40 min)
The ximenynic acid is extracted from the fruit of the sandal plant and serves to counteract water retention and dysfunctions typical of cellulite microcirculation. In combination of the draining massage with the application of aescin gel helps to shape the body and to reconstruct the silhouette of the thighs and legs.
BODY PEEL WITH A MOISTURIZING BODY TREATMENT (25 min)
Quenching, enveloping and relaxing for dry skin of man and woman. It helps to remove superficial skin cells and stimulates the renewal of deeper skin layers. Moisturizing cream is applied at the end of the treatment for skin elasticity and to leave it with a healthy glow.
SEQUENTIAL PRESSURE THERAPY  (25 min)
Gradual pressure is applied on the upper and lower limbs, this enhances fluid flow in the body, therefore venous and lymphatic circulation is reactivated.
SEQUENTIAL PRESSURE THERAPY WITH BANDAGE DRAINING AND FIRMING (40 min)
The action of sequential pressotherapy is enhanced thanks to the use of caffeine bandages to obtain the maximum result of lightness of the legs. Thanks to the specific bioactive contents, this treatment stimulates detoxification and shapes the lower limbs.
OTHER TREATMENTS
Manicure with nail polish
Manicure with semi-permanent nail polish
Application of semi-permanent nail polish
Removal of semi-permanent nail polish
Parapack: hand paraffin compress
Pedicure
Total hair removal
Partial hair removal
Small area hair removal
COSMETIC SOLARIUM SOFT COLLAGEN
The face-body solarium equipped with low-pressure hoses and high-pressure lamps to ensure perfect diffusion of UV rays. The combined effect of red and UV light actives the metabolism and oxygenation of the skin during the pigmentation process. The UV emission joins the red light for an enhanced collagen stimulation. Tanning beds provide a quick and lasting tan and offer a feeling of general well-being for the whole body.
BEAUTY TREATMENTS TIMETABLES

December 7th, 8th and 9th
December 12th and 14th
16.00-19.00
December 18th – 25th
15.00-19.00
December 26th – January 7th
daily 9.00-19.00
January 8th – April 1st
daily 15.00-19.00
RESERVATION IS ALWAYS REQUIRED in order to carry out a beauty treatment.
Contact us using the following contact details:
PHONE 0463 753226
E-MAIL

[email protected]