Beauty treatments
At Terme di Pejo, beauty treatments and cosmetics combine with the purifying action of the mineral waters, helping skin hydration and cellular renovation.
The beauty treatments for body and face use formulas composed of thermal waters, Fonte Alpina and Antica Fonte, and with products of the territory such as apple, blueberry, gentian, edelweiss  nd arnica.
These components help maintaining the skin flexibility and glow and have an anti-aging effect.
The products of the Fonte Alpina and Antica Fonte cosmetic line used during the beauty treatments and made of natural substances and thermal water, can also be purchased for everyday use and are recommended to continue the treatment.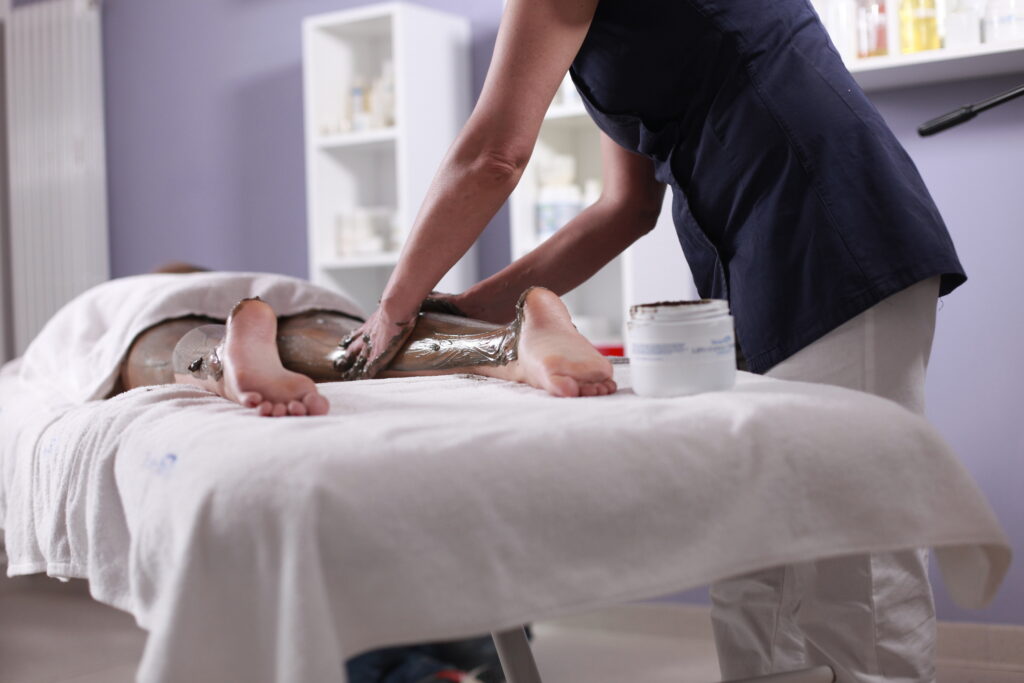 Find out our many beauty offers:
FACE TREATMENT
DEEP CLEANSING FACIAL WITH MASK (50 min)
This treatment gives a deep cleansing to the skin, preparing it to regenerate naturally. A facial includes: a cleansing, a facial scrub and the removal of impurities. It is then followed by a thermal mud mask and finally a skin moisturizer is applied using a specific cream depending on the type of skin.
HYDRO SENSITIVE TREATMENT WITH MYRTILLIN (50 min)
Effective in the treatment of dry and sensitive skin. Myrtillin extracts, vitamins, hyaluronic acid, and mineral water from the "Fonte Alpina" spring will restore the skin's natural glow and luminosity by deeply moisturizing it.
ANTI-AGING TREATMENT WITH PHYTOMELATONIN (50 min)
Rejuvenating anti-aging treatment with phytomelatonin extracted from alpine plants and active on vital cell cycles. By combing this oil with the mineral water, from the "Fonte Alpina" spring, it penetrates the skin deeply and stimulates protein mediators, which are able to activate the formation of fibres that add further support. This treatment is especially suited for ageing, tired skin to give it a smoother texture and to treat lines and wrinkles.
ALPINO LIFTING TREATMENT WITH SPECIFIC ACTIVES (50 min)
This is personalized treatment designed specifically for each type of skin. It's made with super functional pure actives for an immediate beauty effect.
IDROLIFT TREATMENT WITH EDELWEISSAND HYALURONIC ACID (50 min)
A high-performance treatment with a maximum concentration of edelweiss. The whole skin structure, epidermis, cellular matrix and fibroblasts, is globally activated to obtain maximum compactness and revitalization. Designed to define the whole face and redraw its contours.
ANTI-AGING REGENERATING AND ILLUMINATING FACIAL TREATMENT (50 min)
Repairing anti-aging treatment to reduce photo-aging and chrono-aging. Staminal Green and Q10 are good skin care products and they also restructure the skin. Skin will appear younger, facial profile, furrows and wrinkles will be much smoother.
TREATMENT FOR MEN USING GENTIAN (50 min)
This treatment will detoxify, invigorate and soothe male skin types. The products used are low in mineral content and contain gentian extracts.
PHYTOMELATONIN TREATMENT FOR SCALP AND HAIR (25 min)
This is specific for brittle and devitalized hair, it moisturizes, soothes and nourishes the scalp. Giving vigor and volume to the hair as well as benefits to the scalp.
BEAUTY TREATMENTS TIMETABLES

5 – 18 June
from Monday to Saturday 9.00-12.00
19 June – 2 July
from Monday to Saturday 9.00-12.00 and 16.00-19.00
3 July – 3 September
from Monday to Saturday 9.00-12.00 and 15.00-19.00
Sunaday 16.00-19.00
4 September – 7 October
from Monday to Saturday 9.00-12.00 and 16.00-19.00
RESERVATION IS ALWAYS REQUIRED in order to carry out a beauty treatment.
Contact us using the following contact details:
PHONE 0463 753226
E-MAIL

[email protected]