A look at the past
Some historical documents dating back to the 16th century refer to the unique properties of the "Pej baths": it is the first proof of the thermal practice in the valley.
In the following century, more precisely in 1660, the famous scientist Alessandro Colombo "doctor, physicist and actual bedchamber servant of the Serene Austrian Archduke Ferdinando Carlo" published a monograph in which he described the healing properties of Pejo Antica Fonte and advised that "…the heavenly gifts of God don't have to stay hidden, but, on the contrary, they have to be brought to the attention of the human kind that ever more incessantly requires them…".
The scientist analyses the beneficial effects on the health and does his utmost to advise on water drinking modalities: "…they better whet the appetite, they revitalize the ventricle, they prevent the coming up of the innards' taste to your head, they are suitable for the other disorders and are recommended even when patients are very skinny…"; he also advises to put them on the table together with "...vini albi, clari non nimis generosi…" so as to better digest heavy food and "…avoid vicious humors…".
Also Michelangelo Mariani, historian of the Council of Trent, in a text dated 1673, includes among the region's treasures the ferruginous waters of Val di Pejo.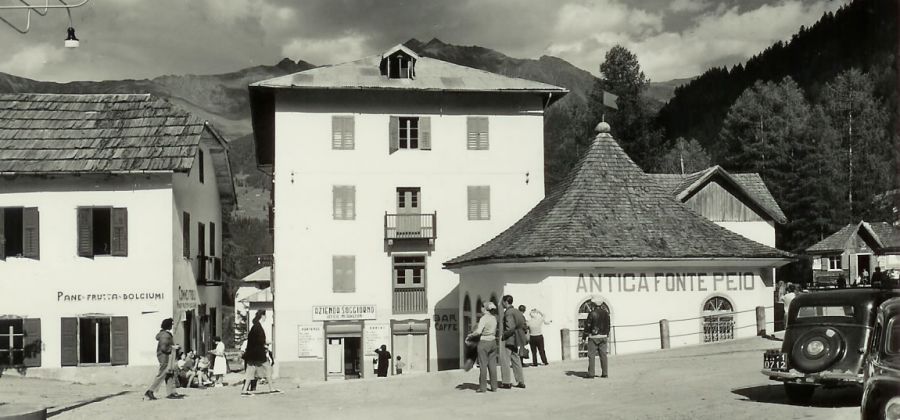 During the 19th century the fame of the place increased thanks to the spa boasting springs with different mineral composition and, for this reason, useful in several clinical conditions: gastric and intestinal pathologies, liver and blood diseases and some metabolic syndromes could find an effective remedy in the spa treatments and in the climate.
The light waters (Fonte Alpina) were appreciated for their depurative and detoxicating characteristics, whilst the heavier ones (Antica Fonte) were used in cases of lack of minerals (iron, calcium, magnesium, sodium etc.) and for their regulatory action on several organs and apparatuses.
On these bases, in the late nineteenth and the first half of the twentieth century, a modern spa resort established and developed in Pejo, with accommodations and services, a tourist and cure resort for patients coming from Northern Italy and also from abroad, especially from Austria and Germany.
The "carbon-gas bath" with its Antica Fonte effervescent water, performed in wood or stone tanks, represented an outstanding therapeutic offer, highly effective in the treatment of pains of an articular and neuro-muscular origin.
In the early twentieth century, the bottling of the waters was started, initially with medical purposes only. Some decades later, the large-scale distribution begins, leading in time to a wide diffusion of the brand Fonte Alpina.
The new spa facility was built in the mid-nineties by the Autonomous Province of Trento in order to satisfy the requirements related to the recent tourist developments in the valley and to better exploit the healthy properties of the Pejo thermal springs.