Hydropinic treatments
The hydropinic treatment consists in drinking thermal water for therapeutic purposes. Drinking the right amount of water helps the body to keep vital functions efficient and to adjust metabolic imbalances.
In Pejo the nature has been generous in mineral springs, which are precious to the hydro-saline balance of our body. At Pejo Spa it is possible to take hydropinic treatments using three different thermal springs:
Fonte Alpina, poor in mineral salts, allows to eliminate the gallstone formations and the gravel located in the urinary system;
Antica Fonte, rich in iron and carbon dioxide, improves the biliary secretion, regulates the intestinal movements and rebuilds the iron reserves in case of anaemia due to lack of iron;
Nuova Fonte, thanks to the presence of bicarbonates and mineral salts, staunches acids and helps gastric emptying.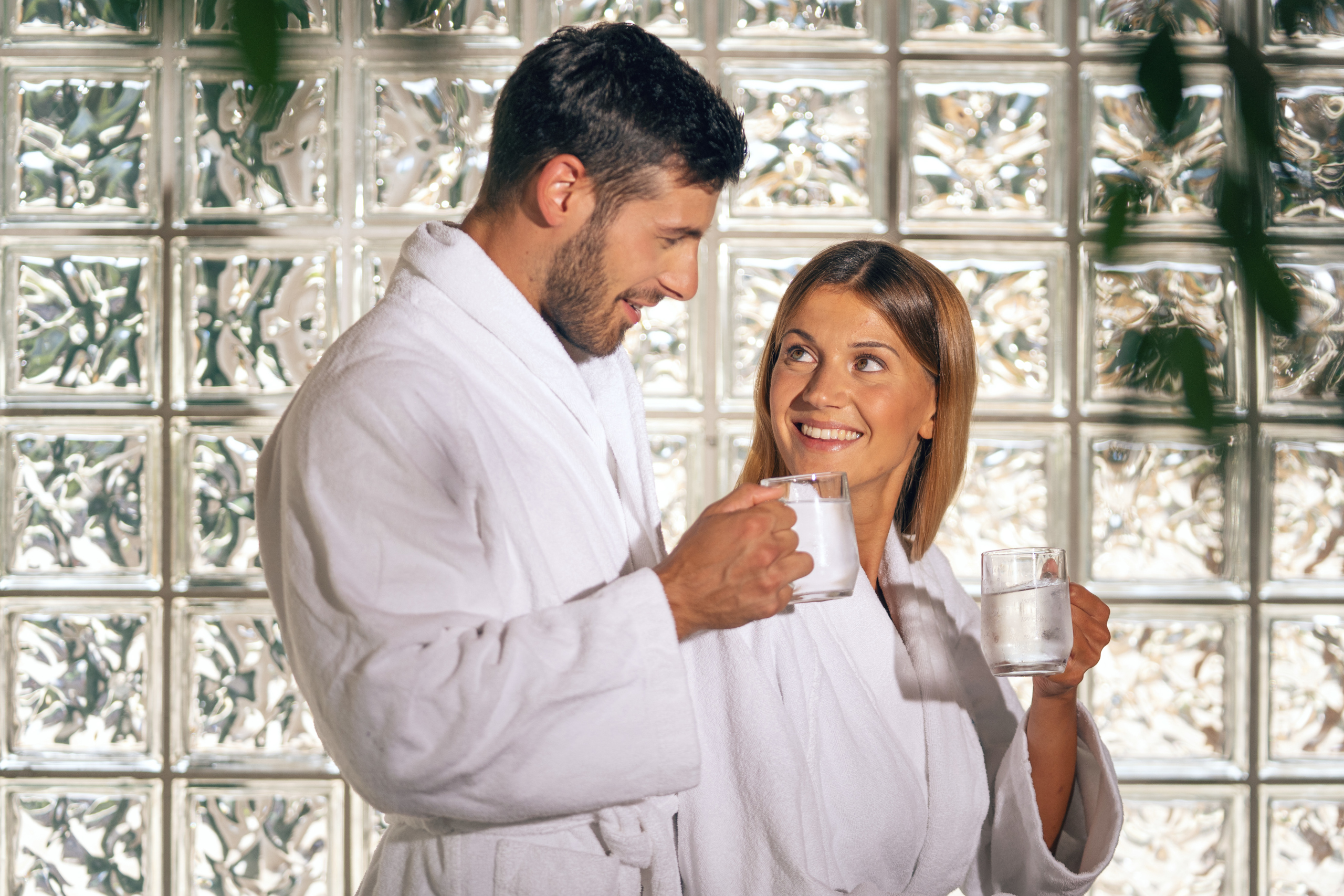 Find out the details of the therapeutic effects of the Pejo thermal water!
Fonte Alpina thermal water forms in a long path through deep and waterproof rocks and, for this reason, its composition is poor in mineral salts. Its lightness helps the melting of the metabolic waste, particularly uric acids, and it performs a "washing" effect on the urinary system, by eliminating gallstones and gravels.
In order to obtain the best effectiveness it is recommendable to drink large amounts of this water – at least two liters per day – slowly, whilst walking in the sun or during a hike in the woods of the Stelvio National Park
Antica Fonte thermal water contains high concentrations of bicarbonates and carbon dioxide: these elements allows to maintain several minerals in solution, among which iron, calcium and magnesium. Such a chemical balance helps the staunching of gastric acids and the control of the intestinal movements.
In gastrites with a high acid secretion, this thermal water has to be drunk quickly and in large amounts, whilst in the associate forms with low production of acids it has to be drunk in reduced doses over longer times.
From the Nuova Fonte thermal spring a sparkling water with a high concentration of mineral salts emerges, which also contains traces of various elements. The bicarbonate component makes it beneficial in the gastrointestinal pathologies, whilst the alkalinizing properties prevent the formation of gallstones. Calcium and phosphates contrast the skin demineralization processes (osteoporosis) and the ferrous ion, easily assimilated, is beneficial for iron-lack anaemia at various ages – from child to adult – and in cases of excessive iron consumption, such as physical hyperactivity and pregnancy. It is recommended to take a daily increasing amount of this water during the holiday period, accompanying it with the best dishes of the Trentino tradition.
HYDROPINIC TREATMENT TIMETABLES

December 18th – 25th
daily 15.00-19.00
December 26th – January 7th
daily 9.00-12.00 e 15.00-19.00
January 8th – April 1st
from Monday to Saturday 11.00-19.00 / Sunday 14.00-19.00
RESERVATION IS ALWAYS REQUIRED in order to carry out hydropinic treatments.
Contact us using the following contact details:
PHONE 0463 753226
E-MAIL

[email protected]