Mineral waters
Water has the leading role in Val di Pejo: glaciers, lakes, snow and mineral springs are some of its expressions. At Terme di Pejo, the Antica Fonte, Nuova Fonte and Fonte Alpina springs help to cure in a natural way some disorders of the joints, the venous and linfatic flow, the skin, the respiratory tract, the gastrointestinal apparatus and the urinary tract.
The mineral springs of Val di Pejo originate in the bowels of the Ortles-Cevedale mountain massif, which encompasses the highest peaks of the Eastern Alps.
Several years are required for the water to find its way through the geological layers and take on its final chemical structure, rich in precious minerals. Water and rocks are closely connected: the composition of each mineral spring tells the story of its own relationship with the earth's crust. This is the reason why each water is different from the others.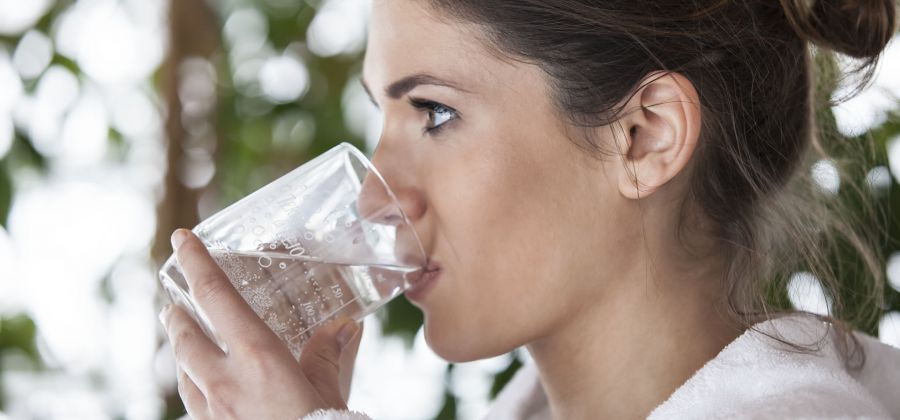 Terme di Pejo exploits three different springs for their particular healthy properties:
Fonte Alpina
Cold and very light water; when emerging from the rocks, its temperature is 7,2° C; it has a very low salt concentration and a pH close to neutrality. It has a fixed residue of 93 mg/l at a temperature of 180° C. It is classified as a low mineral content water.
Chemical composition of Fonte Alpina (.pdf)
Antica Fonte
Medium-mineral, cold water, with a temperature of 7,7° C. It contains bicarbonates and a very high level of carbonic gas, with an acidulous pH. The carbon dioxide maintains various minerals in solution; among them iron (as ferrous ion, the most easily absorbed iron form). It has a fixed residue of 454mg/l at a temperature of 180° C. It is classified as a medium-mineral, bicarbonate, ferruginous and carbonic water
Chemical composition of Antica Fonte  (.pdf)
Nuova Fonte
Mineral cold water, with a spring temperature of 6,5 °C; the high concentration of bicarbonate and the presence of ions, calcium and magnesium prove its alkalizing properties. It has a fixed residue of 1049 mg/l at a temperature of 180° C. It is classified as a mineral, naturally effervescent, bicarbonate, calcium-magnesium and ferruginous water.