Stelvio National Park
The Stelvio National Park is the largest protected area in the Alps and the biggest among Italy's historical nature parks. It extends in the heart of the Central Alps and includes the whole Ortles-Cevedale mountain range with its side valleys.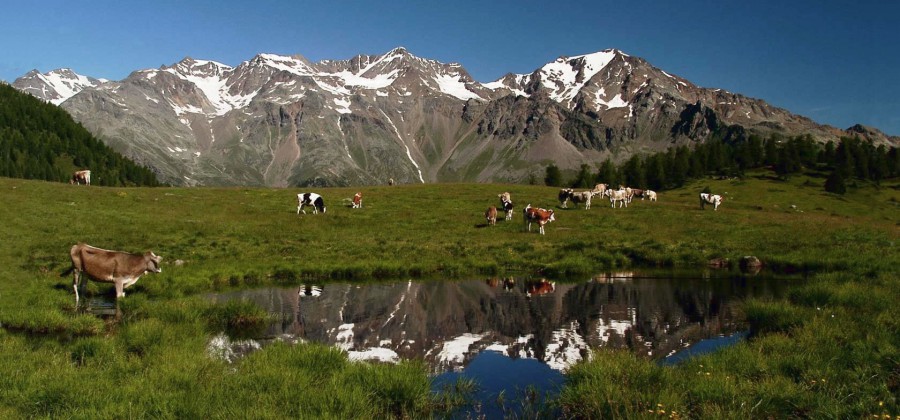 The Stelvio National Park is characterized by several typical alpine landscapes that are, however, quite different from one another: from coniferous forests to high altitude pastures, from wide alpine meadows to valleys bordering glaciers and to many peaks covered with snow, more than 3000m high. Thanks to this important variety of habitats, the Park hosts an enormously rich wildlife heritage; throughout its dense network of paths, you are very likely to experience a close encounter with some of the species characterizing this protected area.
Rich in plants, flowers and minerals, the Park protects lots of animal species, such as deer, chamois, hares, marmots, ermines, golden eagles, and bearded vultures.
The Park is crossed by a dense network of paths and routes. The Park Guides help visitors to discover the flora and fauna but also help them to better understand all the historical, cultural and environmental characteristics of the Park, including old witnesses of past human activities, the so-called 'masi' (mountain farms) and 'malghe' (mountain dairies), as well as botanical paths and thematic routes. In the Visitors' Centres, as well as in Pejo Wildlife Area, all the secrets of this protected area can be discovered and all the necessary information for visiting the park can be requested.
For more than 70 years now the Park has been pursuing its main goal, the protection of an area more that 136.000 hectares wide, where all possible alpine formations can be found: high altitude glaciers, mountain pastures, uplands, valley meadows. At the same time the Park has ensured a sustainable and balanced development of the social and production activities in the area by protecting its ecosystem and the biological diversity.
---
Stelvio National Park
Via Roma 65
38024 Cogolo di Peio (TN)
Tel. (+39) 0463 746121
Fax (+39) 0463 746090
[email protected]
www.parcostelviotrentino.it