Ski Area and Pejo 3000
The renowned spa facility in the heart of the Stelvio National Park also gives the opportunity to ski in a breathtaking landscape, up to the foot of the most famous peaks of the Ortles-Cevedale mountain range. The village of Pejo, the highest in altitude in Trentino, is the oldest tourist resort in Val di Sole and it is popular for its thermal waters, well known since 1650. The Pejo ski area – 6 ski resorts, 20km of ski slopes – is easy accessible from the evocative villages surrounding the area thanks to some comfortable and free ski buses and it is the ideal holiday for families with kids who look for relaxation, among others on the long ski slopes descending from the foot of Monte Viòz to the village, in an enchanting environment where the slopes are never too crowded.
Now however, with its new "PEJO 3000" cableway and the new Val della Mite ski slope, the Pejo ski area is attractive even for the most expert and demanding skiers.
Moreover, the winter sports lovers can scroll along the new cross-country skiing trail and enjoy the natural beauties of the area walking in the woods with the so-called 'ciaspole' (snowshoes) on their feet, together with the Park Guides.
NEWS FOR THE 2014/15 WINTER SEASON: PEJO KINDERLAND
A playground on the snow for the smaller ones, the ideal winter holiday solution for families with children. A 'first steps' camp, tapis roulants, snow games, igloos, a tubing slope and lots of entertainment activities in the Scoiattolo hamlet: all children are welcome, and are sure to have a fun time there!
Download "Ski Area Pejo" map (.pdf)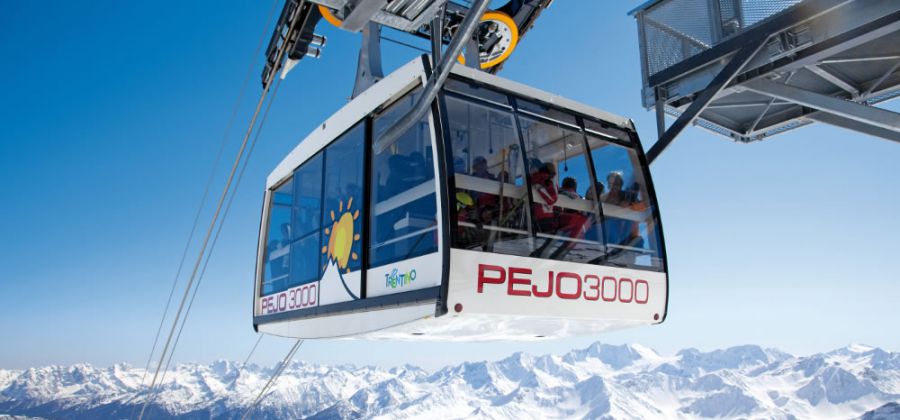 PEJO 3000
The cableway that lets you… literally take off to an altitude of 3000m!
Don't miss the chance to try one of the most modern cableways in the world! Pejo 3000 is the new cableway for high altitude lovers. Opened on 6 January 2011, thanks to its two cabins, with a carrying capacity of 100 people each, it brings guests in a few minutes from the village of Tarlenta (2000m) to the ancient mountain hut 'Mantova', 3000m above sea level, in the heart of the Ortles-Cevedale mountain range, in Val di Sole, Trentino.
And from 3000 m altitude, the ski and snowboard enthusiasts will enjoy one of the most exciting descents in the Dolomites area, the Val della Mite slope: an 8 km slope surrounded by nature and snow, down to Pejo Fonti. In the first part of the slope you will cross a beautiful valley with several slope changes: a natural amphitheatre suitable for all kinds of skiers and riders. The second part of the slope is wider and allows to easily get to the cableway downhill station area.
TECHNICAL DATA
Altitude at downhill station: 2.000 m asl
Altitude at uphill station: 3.000 m asl
Cabin capacity: 100 passengers each
Travel time: 5,8 min
---

PEJO FUNIVIE S.P.A.
Piazzale Telecabina 1
38024 PEIO FONTI (TN)
Tel. (+39) 0463 753238
Fax (+39) 0463 743235
[email protected] – [email protected]
www.skipejo.it